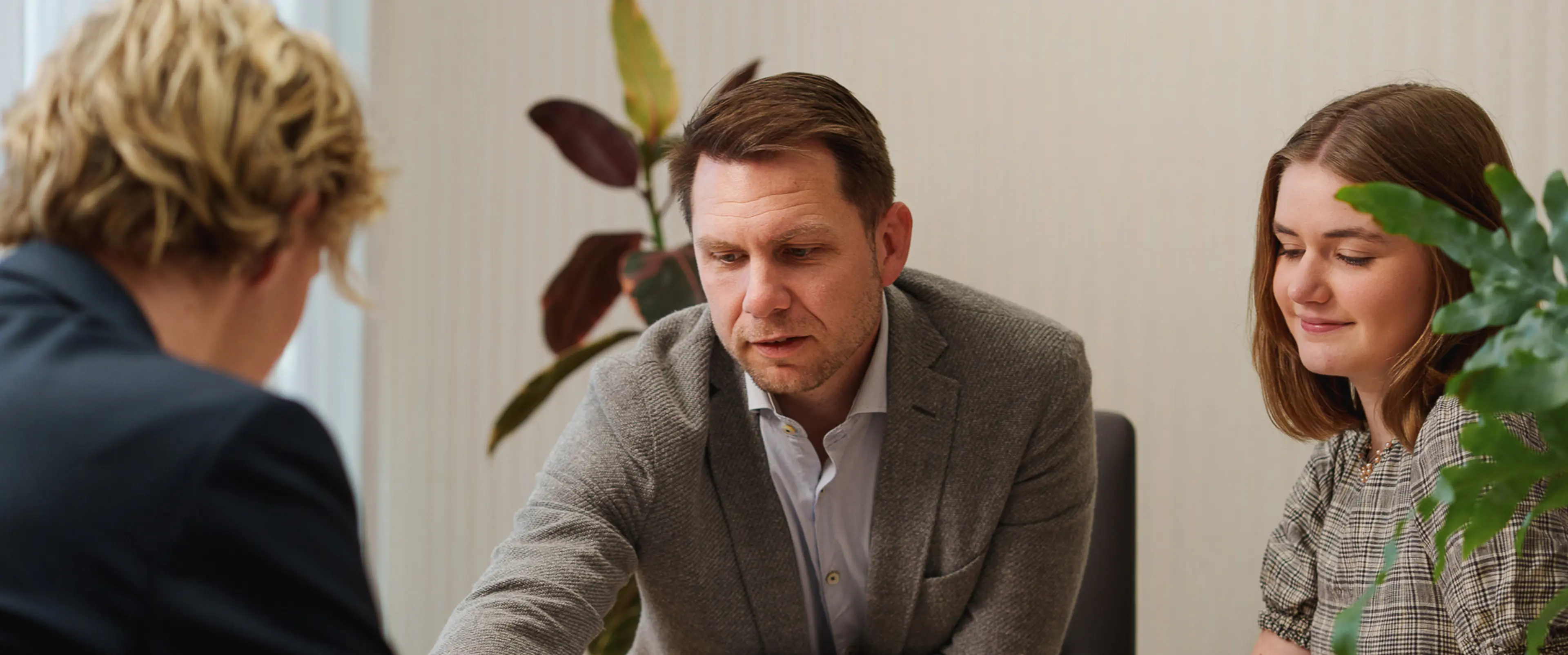 Graduates & Summer Clerks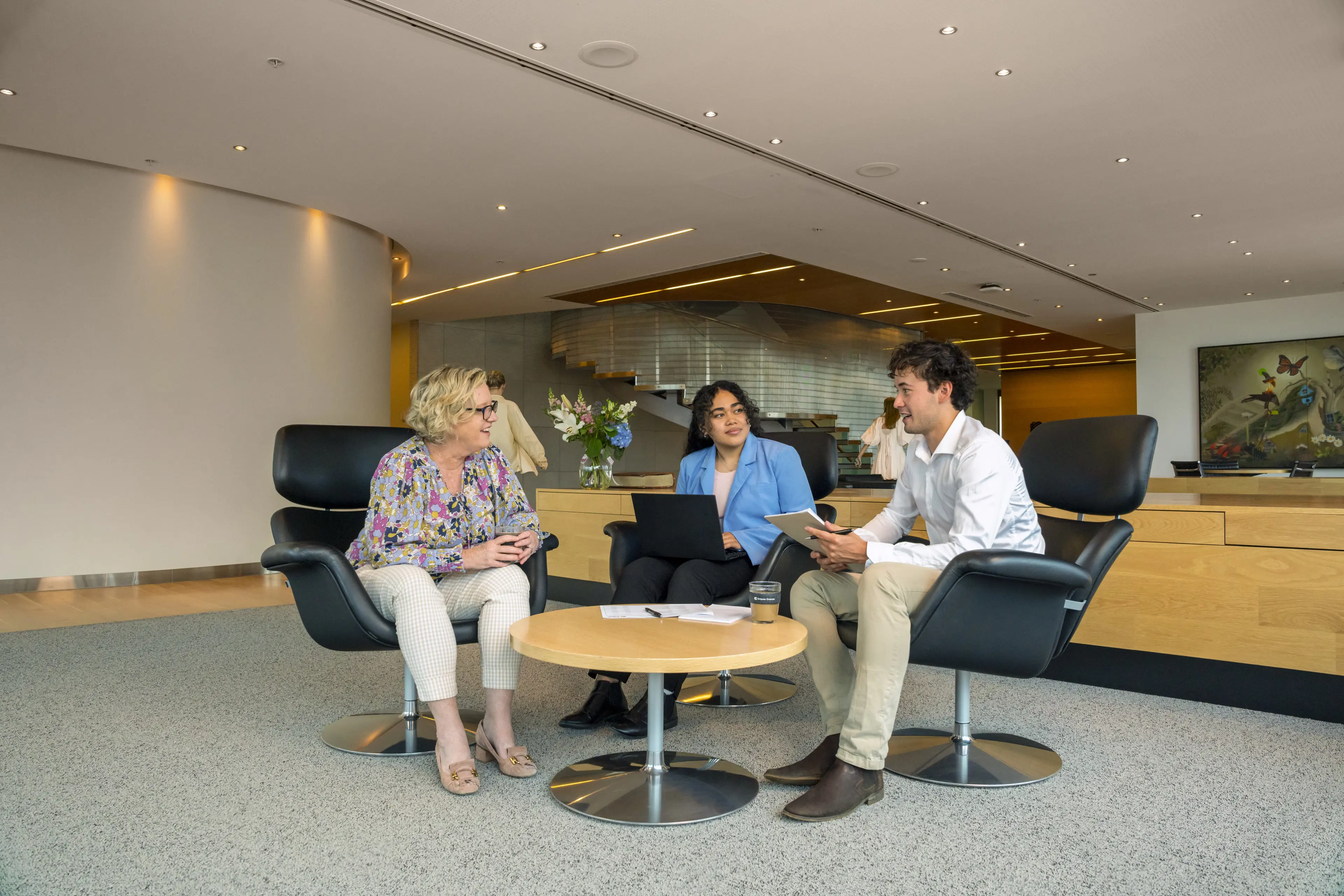 We are a leading commercial law firm that helps you have the best start in your career
As a summer clerk or graduate at Simpson Grierson, you'll get involved in real client work and tackle major projects alongside some of the most respected lawyers in Aotearoa.

We are heavily invested in our young lawyers, who are the future of our firm. We will provide you with an engaging and supportive working environment, which gives you excellent exposure to the legal world and offers plenty of opportunities for growth.
Applications have closed for our 2023 graduate recruitment programme. The programme will reopen in March 2024.
You'll experience two rotations as a summer clerk and will be placed into a team as a law graduate.
We work with New Zealand's leading companies and government organisations. Highlights of our recent work include advising NZ Rugby on its landmark $200 million partnership with Silver Lake, the US technology investment firm, and acting for Lodestone Energy on New Zealand's largest solar project.

Our firm is structured around National Practice Groups which cover all areas of commercial law. This means you'll get breadth and depth of experience across the country.
Our banking and finance department advises on some of the market's most complex and significant financing transactions, and prides itself on driving successful outcomes for our clients. The department also includes a leading restructuring and insolvency team.

We regularly act for major financial institutions, investment banks, leading listed and unlisted companies, private equity houses, fund managers and local government bodies.

Recent work has included advising Treasury on the development of the Infrastructure Funding & Financing Act, and on the first project under the Act which will deliver critical transport infrastructure in Tauranga. Significant deals we have advised on include ASB's first sustainability-linked loan (for Hawke's Bay Airport), the funding of Electric Kiwi and the financing of Auckland's new Hyatt-branded hotel.
Simpson Grierson has always been renowned for its strength in construction law. Our specialist lawyers advise across all stages of a construction project and have in-depth experience, gained from many decades advising on major projects, across multiple sectors, in New Zealand. We also advise on significant international projects.
Our recent work has included being advisors for the Auckland City Rail Link project, Watercare's Central Interceptor project and Christchurch City Council's development of the new Canterbury Multi Use Arena.

We also assist clients in the resolution of disputes across the construction sector.
Our large corporate and commercial practice, which includes a leading tax team, has an extensive track record advising on many of the landmark transactions in New Zealand's corporate history. Our clients including leading New Zealand and international companies and private equity houses.

Our major deals in 2022 included advising 2degrees on the $1.076 billion sale of its cell phone tower assets to mobile tower company, Connexa, acting for NZ Rugby on the $200 million investment by Silverlake, and acting on the $1.7bn merger of Orcon and 2degrees.

We also advise on large-scale infrastructure projects, including Lodestone Energy's 2022 establishment of New Zealand's largest solar energy farm.
We have what is widely considered to be New Zealand's leading employment law practice. Our expert advice is called on by many of the country's top organisations in both the private and public sector. We are skilled in all areas of employment-related work and assist clients in resolving their employment relationship problems quickly and effectively.

Our core work is acting as a strategic business partner for our clients and providing day-to-day advice on the full range of employment law matters. We have represented our clients in the Employment Relations Authority, Human Rights Review Tribunal, Employment Court, Court of Appeal and Supreme Court. We also regularly assist with conducting independent reviews; for example, the conduct and culture review of New Zealand Football.
Our leading IP/ICT team is world renowned and we are ranked as the leading New Zealand team across both IP and sports law.   We are also the only law firm in the country to have a team dedicated to Sports, Entertainment & Venues.

Examples of our work include developing and managing the rights protection strategy for New Zealand Olympic Committee and Paralympics in respect of the Olympic Games and Commonwealth Games, advising NZ Rugby on its Silver Lake investment and brand strategy, appearing in the court in some of New Zealand's most significant trade mark disputes, advising the likes of Google, Apple and Facebook about the launch of key technologies in New Zealand, and advising on a major project to develop a single public transport payment system across New Zealand.
We are leaders in complex commercial, regulatory, and public law litigation. Our team regularly conducts significant and large-scale cases in all New Zealand courts, and has a reputation for adopting a commercial and pragmatic approach. We have broad expertise in disputes involving financial and non-financial regulatory issues, trade practices, insurance, corporate governance, property, local government, class actions and litigation funding, privacy, data protection, media, IP, and public law.

Our work includes acting for the Financial Markets Authority following the collapse of former NZX-listed CBL Corporation, representing directors in the Intueri class action, appearing in the Supreme Court on novel judicial review issues, and defending allegations by a large multinational service and technology provider.

We have also represented clients in the Royal Commission into Abuse in Care and the Canterbury Earthquakes Royal Commission, acted in one of New Zealand's largest arbitrations arising from a major insurance dispute, and defended Auckland Council and Auckland Transport against claims concerning a significant commercial property development.
We are market leaders in environmental law and resource management. Our team has a strong focus on infrastructure, urban development and energy, regularly advising private and public sector clients on the consenting of large-scale projects.

We are key advisers to local government bodies. We assist many city, district, and regional councils with strategic advice and with resolving environmental disputes, and also advise on local, regional, and national planning documents and associated processes.

Our work includes transformational transport projects such as Auckland Light Rail and the Eastern Busway, and assisting Watercare with critical projects, including applications for an additional water take from the Waikato River.  For the private sector we act for some of the biggest developers.  Examples include the Beachlands development which has 4000 dwellings, schools and a commercial heart.  We've also advised local authorities on major plan reviews in Auckland, Christchurch, Tauranga and Queenstown.
We take our commitment to pro bono legal work seriously and offer assistance on a range of legal issues affecting both communities and individuals nationwide.

Pro bono is an integral part of our culture and we don't ask staff to undertake pro bono work on top of their daily work and budget targets – it is treated like billable work for all performance measures.

Pro bono work can allow staff to try their hand at a new area of law – just ask the team of lawyers who trained up to assist former refugees to apply to reunite family members in New Zealand.

We support a number of charities doing the hard graft in our communities, including: Community Law Centres o Aotearoa, Give a Kid a Blanket, E Tipu e Rea Whanau Services, Youthline, Cystic Fibrosis NZ, Refugees as Survivors NZ, Monte Cecilia Housing Trust, The Period Place.
Simpson Grierson has one of the largest real estate teams in New Zealand.

Our practice spans a range of areas including large scale land development, forestry, renewable energy including wind and solar developments, aged care, commercial property, leasing, sales and acquisitions, and overseas investment.  We have specialist expertise in public works matters and work on infrastructure projects that are transforming the country, including Auckland Light Rail, City Rail Link and Transmission Gully.

We have advised on some of the most significant and ground-breaking developments in New Zealand, providing strategic advice to investors, developers, landlords and tenants. Our clients include Fletcher Residential, Scentre group (Westfield), Bunnings, New Zealand Carbon Farming, Matariki Forests, bp and a number of Government Departments and local authorities.
Our culture is based on our shared values: putting people first, working at our best and being energetic for change.
Making sure our people feel supported and included is important to us. We will listen to what you have to say, and we encourage you to bring your whole-self to work.

We take pride in being the first organisation in Aotearoa to receive the Rainbow Tick, and are proud of winning the Employer of Choice (>100 lawyers) at the New Zealand Law Awards 2022.

Pro bono is a big part of our culture, and all of our lawyers have the chance to get involved in rewarding work with our community partners Youthline, Community Law Centres o Aotearoa and many others.
Professional development programme
You will get the best training and development available.  Join lawyers from across the firm in our wide range of masterclasses, seminars and workshops on topical and tricky legal issues. These sessions allow you to deep dive into new areas of law and hear how our experts navigate those areas.
As well as the technical legal training, our summer clerk and graduate programmes also involve training in technology, personal brand, business writing, file management, and other useful skills you need to be successful in your career.

THRIVE – our wellbeing programme
We put our people first by prioritising their wellbeing. We have a number of initiatives in place to ensure we THRIVE, including our very own Wellbeing Manager, a calendar of speaker events and seminars, and a broad range of helpful resources, activities, and benefits. We know the importance of having a good support network at work, and have a dedicated team of Wellbeing Champions in each office.
Our Wellbeing Champions are trusted colleagues who are there to lend an ear if you need, and have been upskilled in mental health awareness.
Diversity is what helps an organisation flourish. Which is why we make sure Simpson Grierson is a place where everyone feels their voices matter, their opinions are respected, and they truly belong.

We have a number of learning opportunities that build cultural competency and challenge unconscious bias.

We also have a wide range of employee networks to help you connect with colleagues, find support and become allies. Some of our larger networks include our Rainbow communities, Māori and Pasifika communities, Neurodiversity group, Women & Allies group, Asian Languages & Culture group, and various faith groups and cultural groups.

Celebrating the neurodiversity of our people is critical to a healthy and thriving workplace. We will provide you with a psychologically safe recruitment experience so you can perform at your best.  Please let our recruitment team know if you need any support or modifications throughout this process, like moving to a café or more comfortable space, or using assistive technologies.
A central part of our commitment to be energetic for change is giving back to Aotearoa's communities. Our summer clerks and grads have the opportunity to play a key role in this.

Our law graduates participate as mentors in our Ōrākei School programme, and we encourage all of our young lawyers to get involved in pro bono work.

Our dedicated pro bono practice, led by partner Shan Wilson, helps disadvantaged and low-income members of the community gain access to legal services.
Simpson Grierson is a net zero carbon organisation certified in line with international best practice. We received our Toitū carbonzero certificationin September 2020. We have a long term strategy to reduce emissions intensity by a minimum of 5% per year on average over the next 5 years.

Last year, we were proud to be shortlisted for the Toitū Brighter Future Awards in the Climate Action (biggest reduction) Medium Organisation category, which acknowledges organisations that have demonstrated the most significant emissions reductions during 2021-22.

In addition to applying sustainability principles to our day-to-day activities, we also provide commercially-sound legal advice on climate change matters, and the business impacts of transitioning towards a low carbon future, through our leading climate change practice.

To achieve our long-term sustainability goals, we are continually looking for practical ways to reduce our environmental impact.
What programme is right for me?
We offer summer clerkships and graduate programmes in each of our Auckland, Wellington and Christchurch offices.

Please note: graduate roles vary every year. We only hire graduates when an office needs additional numbers from its summer clerk intake.

When you apply, please select the option that is most applicable to you.

Throughout these programmes, you will be exposed to a wide range of hands on legal work. We ensure all our summer clerks and graduates receive comprehensive training and personalised support.
If you're in your penultimate year of Law School, you are eligible to apply for a summer clerkship at Simpson Grierson. As a summer clerk you will rotate through two different teams, one before Christmas and one after. We're usually able to rotate our summer clerks through teams that they're most interested in, which means you get to explore practice areas you're curious about.

In your first few days as a summer clerk you'll be based in our Auckland office where we will welcome you to the firm and you'll get to network with each other over some fun activities. The remainder of the week will be spent completing your orientation and settling into your teams.
When you join us or return as a Simpson Grierson graduate, you will start by doing your professional legal studies for the first three months and will then join your team in April. We'll work with you to place you in a team that is the best fit for you as a new lawyer, and for our firm.
We have a wide network of people to support you at the start of your career.

You'll get access to a comprehensive two-year training programme that has been described externally as 'leaps ahead' of our competition.
Frequently Asked Questions
We recruit annually in March. There are some occasions where we recruit later in the year for graduate roles but this is dependent on business needs.
While academic results are important; we want to see the full picture of who you are. This can include details of previous work experience, achievements, volunteeror community involvement, sports, hobbies, language/s or any other transferrable skills. A top tip is to highlight aspects of your CV that make you stand out as a budding commercial lawyer of the future.  Please include your contact details as well. We encourage you to submit a concise and to the point CV, one to two pages should be enough.
We offer many opportunities for you to connect with us as early on as possible. We will be attending all career fairs this year, so come along if you can. We also have our open day around September which is a great opportunity for you to connect with the firm.  Email our graduate recruitment lead Devon with any queries.
Come prepared – do your research on the firm and its people
Be on time!  Aim to arrive 15 minutes early in case of any unexpected delays
This is a chance for us to get to know you beyond your CV so be prepared to delve deeper into challenges you've faced, times you've used initiative, displayed solid work ethic or been resilient
Showcase why you want to be a commercial lawyer in one of the best firms in the country.
This is also an opportunity for you to find out more about us, so bring along any questions you have
Be yourself! We want to get to know the real you so let your own flair shine through, and try not to be overly rehearsed
Remember: Most of us have been in your shoes at some point in our careers and we understand that nerves are only natural.  We're a friendly bunch and hopefully you'll feel at ease in no time.
We receive over 700 applications each year which is why standing out from the crowd really helps you get noticed. The People & Culture team review every single application first hand. This programme is really important to us, so no AI involved!
You'll hit the ground running with technology and research training, before participating in a bespoke professional development program. 
Yes you can apply for more than one office although in the initial application form we do ask for your preference out of the offices you applied for. You will need to create separate applications for every office you apply for, but you can include the same information within each application.
Absolutely not. We don't expect summer clerks or law graduates to have previous legal experience.
We try to refrain from hiring summer clerks who are not in their penultimate year. We like to keep consistency within our cohorts so that you build strong peer groups.