1/08/2023·4 mins to read
Overseas investment considerations for acquisition of land for renewable energy projects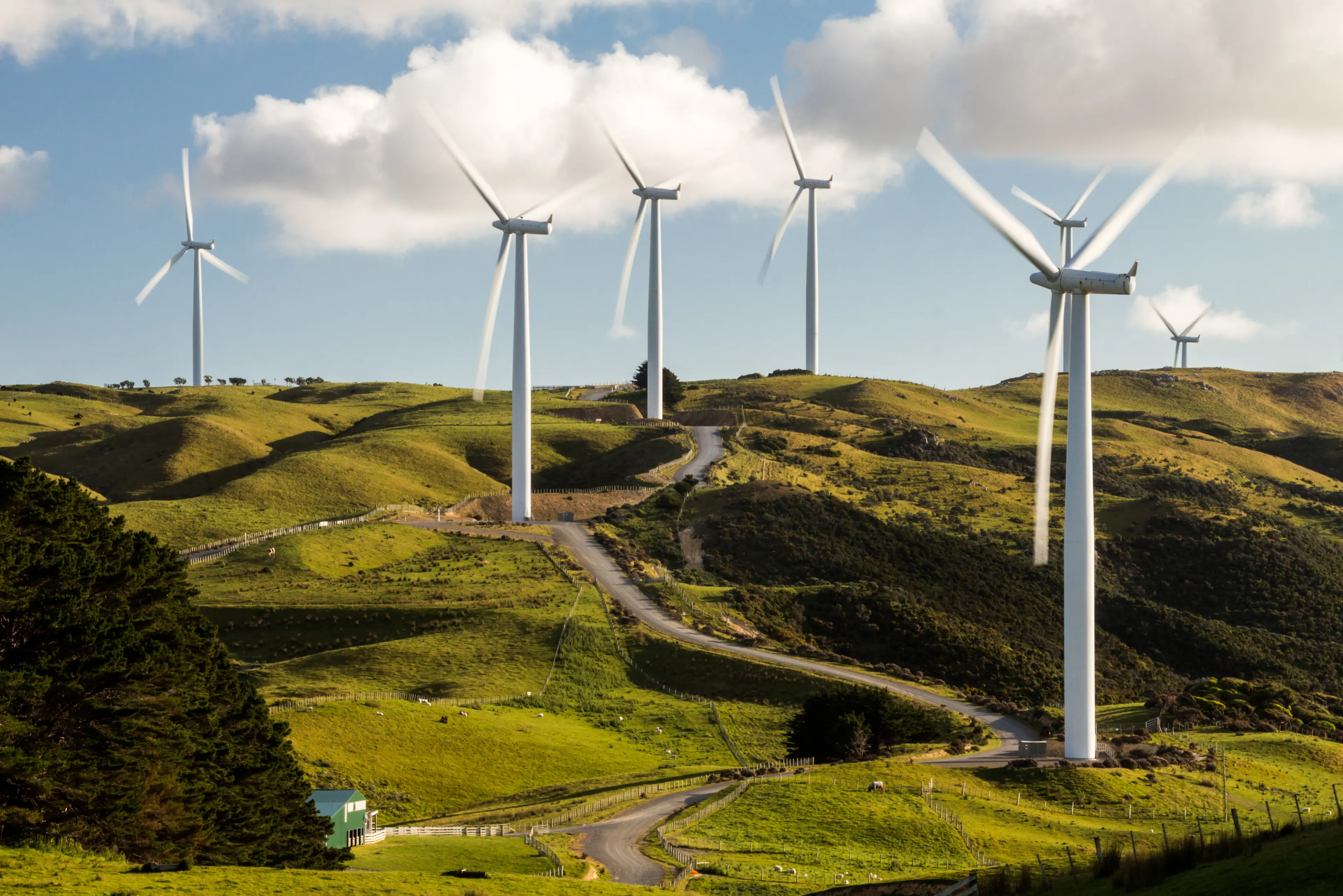 Overseas interest in New Zealand renewable energy projects has increased significantly over the past few years, with current market sentiment appearing to support this trend as developers and investors look for further opportunities.
A growing proportion of New Zealand's total primary energy supply is produced from renewable resources, including hydro, geothermal, wind and bioenergy, but New Zealand still requires a large amount of new renewable generation capacity to meet its climate commitments. These include a 50% reduction in net emissions by 2030 and net zero emissions (other than biogenic methane) by 2050.
Renewable energy generation facilities, such as solar and onshore wind farms, typically require large, relatively flat sections of land for engineering and construction purposes, so ideal project sites are commonly located in non-urban areas. Land of this type will most likely be deemed "sensitive" land under the Overseas Investment Act 2005 (OIA) and, often, will have increased sensitivity as it is farmland.
New renewable energy projects will generally require an initial acquisition of land by the project entity, either by acquiring the freehold title or being granted a leasehold interest of over 10 years, both of which would trigger an Overseas Investment Office (OIO) consent requirement where the project entity is an overseas person.
OIO application process
While the OIO application process is lengthy and costly, it is likely that a renewable energy development project will meet the "Benefit to New Zealand" test, due to the development, expenditure, and support of significant Government policy. However, it is important for investors to have a detailed business plan, and to assess that plan with the benefit of professional advice before embarking on the project.
Depending on the particular project, there may be OIO considerations other than the acquisition of an interest in sensitive land, such as whether a significant business assets consent application is required.
Importantly, the statutory OIO processing timeframe for consent to acquire farmland is 100 working days (although this can be extended for a variety of reasons) so overseas investors will need to incorporate this into their planning.
For more information about the OIO application process, including other requirements for consent, expected consent timeframes and general requirements, please contact one of our experts (see below).
Use of easements for renewable energy projects
Easements are an exempted interest under the OIA, so do not require OIO consent. While they have been considered as an option for securing land by some investors, the OIO has strongly signalled that it does not consider easements are appropriate for solar farms, although they may be suitable for wind farms.
An easement cannot permit anything resembling the grant of joint or exclusive occupation of land (which is more akin to the grant of a lease). The OIO has signalled that a solar farm (with intensive infrastructure in one area) is reflective of joint or exclusive occupation. The assessment is different for a wind farm where the infrastructure is dispersed over a larger area and a landowner may continue to enjoy their land as dominant occupier, with the wind farm operator, as grantee, having a lesser interest in the land.
It is the nature of the interest, rather than what it has been labelled, which is the relevant consideration. Even if an easement is granted (for a solar farm), there is a strong possibility that the OIO will view it as a lease, not as an exempted interest.
Failure to obtain OIO consent for an easement that the OIO considers to be a lease, and therefore an interest in land, gives rise to the risk of enforcement action by the OIO. While this may be resolved by a retrospective consent application, there is still the risk of a disposal order and/or fine.
Farmland advertising requirements
Renewable energy developer entities will also need to be aware of the farmland advertising requirements under the OIA.
Farmland is land that is used exclusively or principally for agricultural, horticultural or pastoral purposes, or for the keeping of bees, poultry or livestock. The relevant time for assessing land use is when the interest in land is acquired (ie when a sale and purchase agreement is entered into), rather than any proposed use, or the use at the time the acquisition is completed.
The farmland advertising requirements are designed to ensure that New Zealanders are offered an opportunity to purchase farmland before the interest is granted to a prospective overseas investor, due to the high level of sensitivity placed on farmland under the OIA.
Importantly, farmland must be advertised (in accordance with prescribed requirements) on the open market for a minimum of 30 working days before a contract is entered into. The contract cannot be conditional on the advertising being completed. This requirement could potentially create significant risk for a project developer where a key site has been identified as having suitable characteristics for a renewable energy project.
Farm land advertising exemption
It is possible to apply for an exemption to the farmland advertising requirements. The OIO has signalled, first through an exemption granted in 2022, that an advertising exemption is appropriate in the context of a leasehold acquisition of farmland for a solar farm. The OIO has subsequently granted a number of similar exemptions. The OIO considered there was the potential risk of a competitor energy investor seeking to acquire land in reliance on due diligence undertaken by an overseas developer, and that not granting the exemption would potentially discourage overseas investors from undertaking feasibility studies without contractual certainty they would be able to acquire the land.
Ultimately, any exemption to the farmland advertising requirements will be considered on a case-by-case basis, but the OIO commented that:
the interests in question were leasehold interests (critically, as the OIO opined that acquisition of a freehold interest must still be advertised);
the underlying freehold ownership of the farmland would not change as a result of the transaction; and
solar farming is a temporary use of land and can be reverted at the conclusion of a lease.
Our experts
Overseas investment regulation is one of many inter-related considerations for overseas investors and entities participating in the New Zealand renewable energy sector. Our Energy experts would be happy to discuss any aspect of your proposed development.
Special thanks to Sarah Heslin for her assistance in writing this article.